The raised access floor, also known as a floating floor, is a system made up of modular panels supported by a galvanised steel structure. The walking surface is thus elevated, in order to create a space under the floor for the technical installations.
The main advantages of a floor system:
01. Quick installation → the raised floor is laid "dry", therefore no cement screed is needed. This leads to a considerable reduction in installation time – compared to a traditional floor – and makes the surface immediately walkable.
02. Inspectability → a floating floor offers total accessibility to the underfloor space, facilitating any maintenance and adjustment of the systems.
03. Safety → the raised floor is produced according to EN12825 standard, which guarantees the respect of the performances in terms of mechanical resistance, reaction and resistance to fire, thermal insulation and acoustic comfort.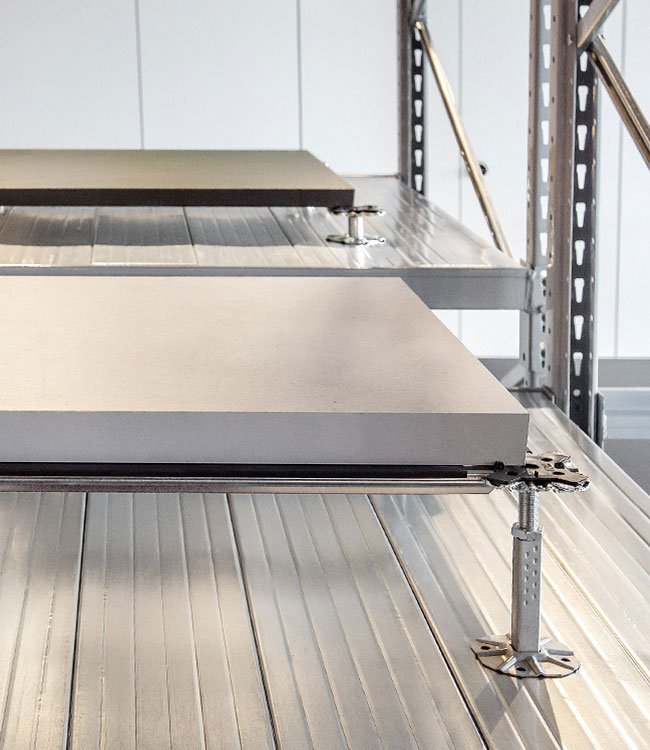 components of raised floor
The panels are the main part of the raised floor system, at the same time helping to ensure the designed load resistance and determining the aesthetic characteristics of the space.
Each panel consists of four elements:
Core
The core is the structural nucleus of which the panel is composed, which determines its characteristics of resistance to loads and fire resistance. The types of core for raised floors are:
01. Chipboard core
Nesite panels with this type of core are produced with chipboard in class E1 (according to EN 717-2) for its panels, with very low formaldehyde emissions and high density 730 kg/m³.
The chipboard core is available in two thickness:
• 28 mm, used when a high load capacity is not required;
• 38 mm, the most requested thickness due to its good performance and complete certification.
02. Calcium sulphate core
This type of core consists of a monolithic layer of calcium sulphate, anhydrite-reinforced, with recycled cellulose fibers, reaction to fire in class 0 (class A1 according to EN 13501-1).
For the production of this kind of panels, Nesite uses calcium sulphate with a density of 1600 kg/m³, the highest available on the market.
Calcium sulphate panels are available in two thickness:
• 34 mm thick, for the best performances.
• 30 mm thick, perfect with ceramic gres top covering.
Edge trim
Top covering
Bottom covering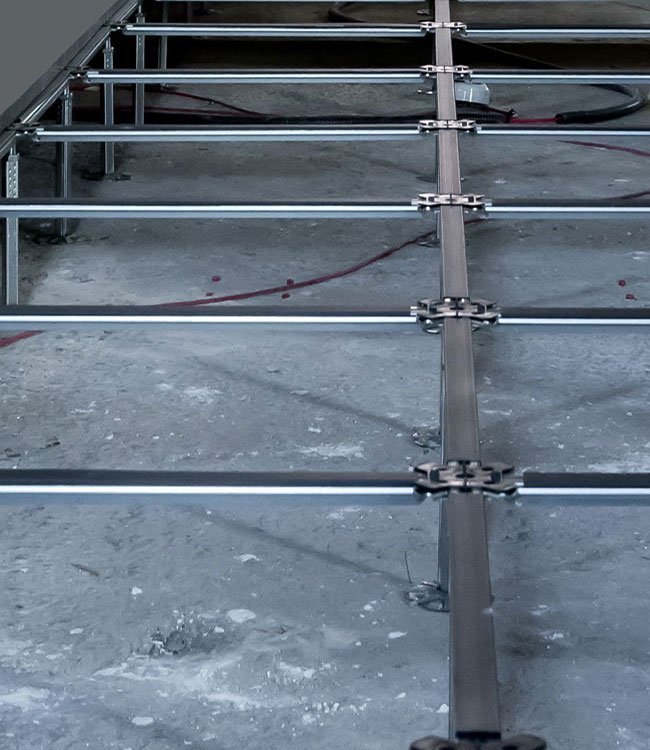 The structure is the fundamental element of a raised floor, as it determines the height over the surface it is lying on.
It is composed of two elements:
• the columns which constitute the vertical element adjustable in height.
• the connection stringers.
The structure is available in different heights for different needs, from a minimum of 3 cm to 100 cm in the standard version. Upon request, it is also available for bigger heights, condition that requires specific design and installation features, such as the use of bracings.
RAISED access FLOOR FOR INDOOR​ spaces
RAISED access FLOOR FOR OUTDOOR spaces
For outdoor spaces, NESITE has designed Twin Floor Outdoor, a floor system with high mechanical performance, which guarantees dimensional stability in the presence of humidity, water and changes in temperature.
Twin Floor Outdoor is made up of very resistant panels, thanks to the very high density core (Kg/mc 2.200) coupled with the ceramic or natural stone covering.
Ideal for paving any outdoor space (garden, terrace, gazebo, poolside, etc.), it can be applied dry (only on support) directly on gravel or grass, but is normally installed on PVC pedestals of various heights.