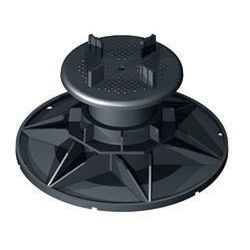 Find out more about the Raised Floor System
Nesite can supply also PVC substructure suitable for Twin Floor outdoor raised floor system.
There are two main versions:
» Non-adjustable supports, composed of a single piece with fixed height from 14 mm to 17 mm. They are characterised by four tips that allow to realize the gap between the panels (4 mm).
The plastic material is particularly resistant to thermal shock, sour and basic solutions and weather agents.
» Adjustable supports, composed of a jack head threaded in its bottom part. The base is concave on the bottom and has a non-slip surface. The side holes allow water draining.
The ring nut allows an easy and perfect height regulation and ensures a perfect final leveling of the floor.