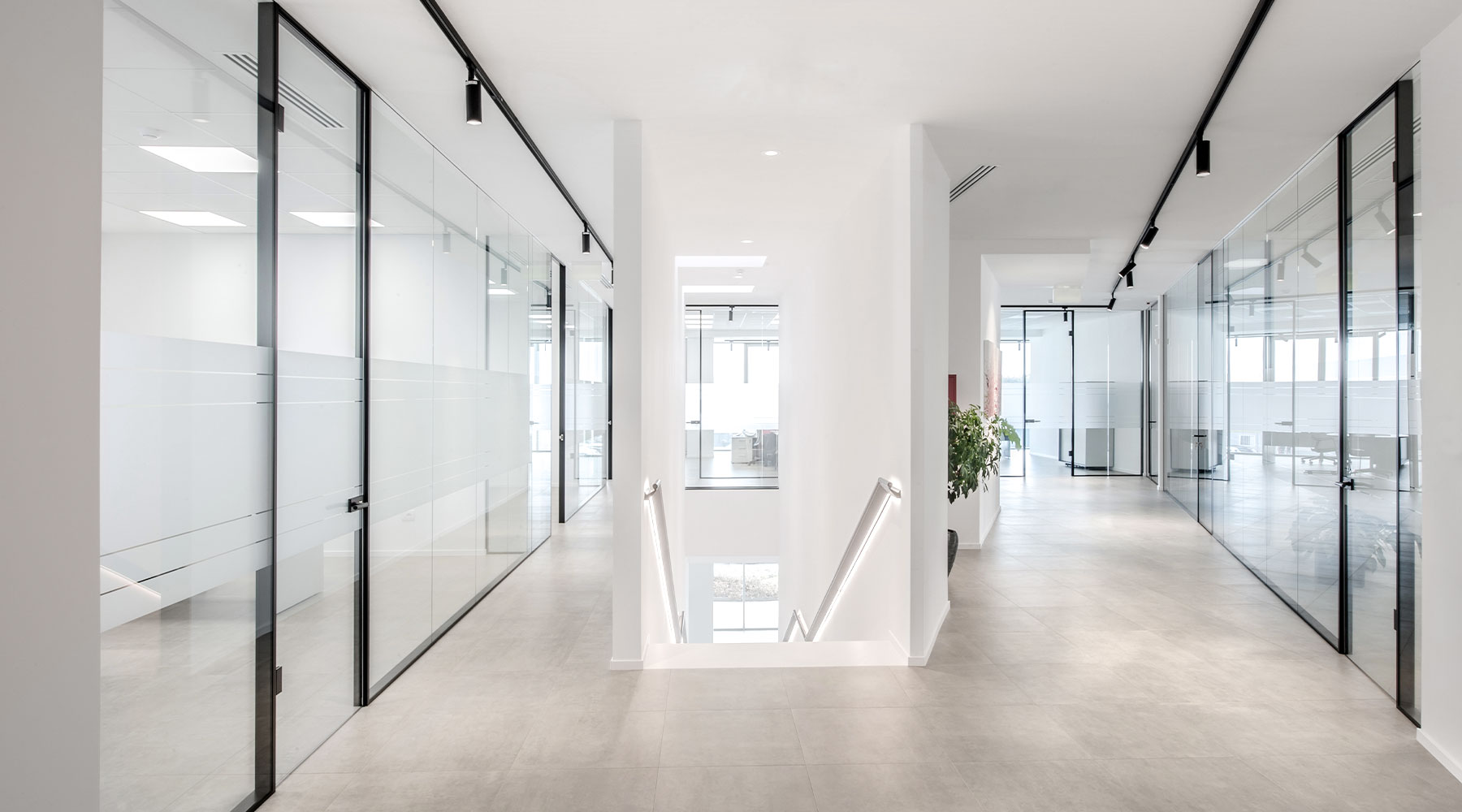 The integrated walls of Kairos system represent an element of high aesthetic and comfort value, characterised by their concealed insertion in the floor and ceiling, provided by the special profiles that fit flush into the two components.
Kairos can be composed of single or double-glazed walls made of 10 or 12 mm thick laminated safety glass, with acoustic PVB in between for a certified insulation of 39 dB with a single-glazed wall and 47 dB with a double-glazed wall. The walls are made of interchangeable profiles, which can always be reconfigured.
Doors complete the versatility of the Kairos system by offering no less than 5 single-glazed swing doors, 2 double-glazed swing doors and 2 sliding doors configurations.
With Kairos integrated design, the acoustic bridges that are usually created when the three components are installed separately are eliminated. Kairos, without any intervention, already introduces a first barrier against the different disturbing factors. In terms of acoustic design, on the other hand, the profiles are designed to build acoustic partitions, thus creating a second and unique noise barrier.
In addition to the wall performance, which provides up to 47dB of noise reduction, the acoustic baffles extend the noise barrier beyond the ceiling and under the floor, providing high levels of comfort and insulation.
MOTORISATION AND
HOME AUTOMATION
All types of swing doors can be motorized with a particular retractable system. The sliding doors, on the other hand, can be equipped with the exclusive magnetic induction motorization with softmotion technology, a unique solution on the market.
Kairós system can also be prepared for home automation integration by creating the technical compartment with a special sandwich panel.
All doors can be equipped with panic bars, electric strikes and integrated door closers and, in special versions, they can also have large dimensions up to W1500x H3300 mm.