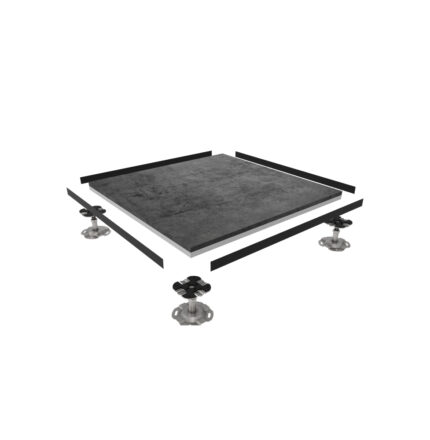 Features
Very high footfall comfort
Good acoustic comfort
Completely fireproof and waterproof
Reduced thickness, only 25 mm including ceramic covering
Find out more about the Raised Floor System
The Twin Floor System consists of Porcelain Stoneware Cladding Combined with A Structural Core Composed of Inert and Inorganic Materials, Very High Density (kg/mc 2,200), sintered at very high temperatures.
The two layers form a 600x600mm panel with total thickness 25 mm, coupled together by using special adhesives; the panel is then finished with a laterally ABS edge, with high mechanical and thermal resistance, self-extinguishing and no squeaking.
The result is a floor with a very high mechanical resistance, totally water-resistant, with fire reaction class A1. Thanks to its excellent characteristics, can be installed in outdoor areas in direct contact with the atmospheric agents, to guarantee unparalleled durability and long life.
For the available upper coverings, please contact the sales office.