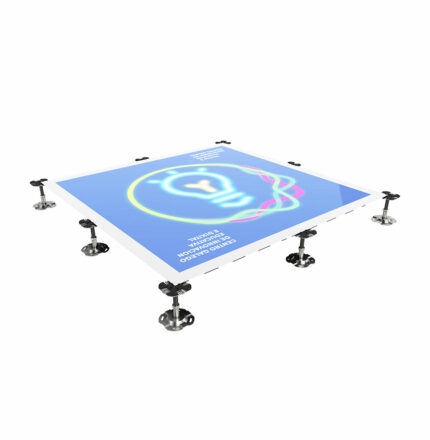 Features
Floor multimedia projections
High-strength tempered glass finishing
Walkeble
Waterproof
Remote control
Find out more about the Raised Floor System
JUNO VISUAL is the panel that allows multimedia projections on the floor thanks to the integration of the walkable video display (load capacity > 600 kg/m²), made of high-strength tempered glass, 15 mm thick.
The system makes use of a supplied software, to be installed on one's PC, which allows connection with the panel (via WI-FI or cable) and subsequent management of the projections. The multimedia material can be illustrated individually on each module, or on the entire superfice in the case of several modules.
JUNO VISUAL retains the installation and aesthetic prerogatives of the raised floor, completely concealing the cabinet in the cavity, for impactful visual effects, whether for entertainment purposes or for branding and/or promotional finities.