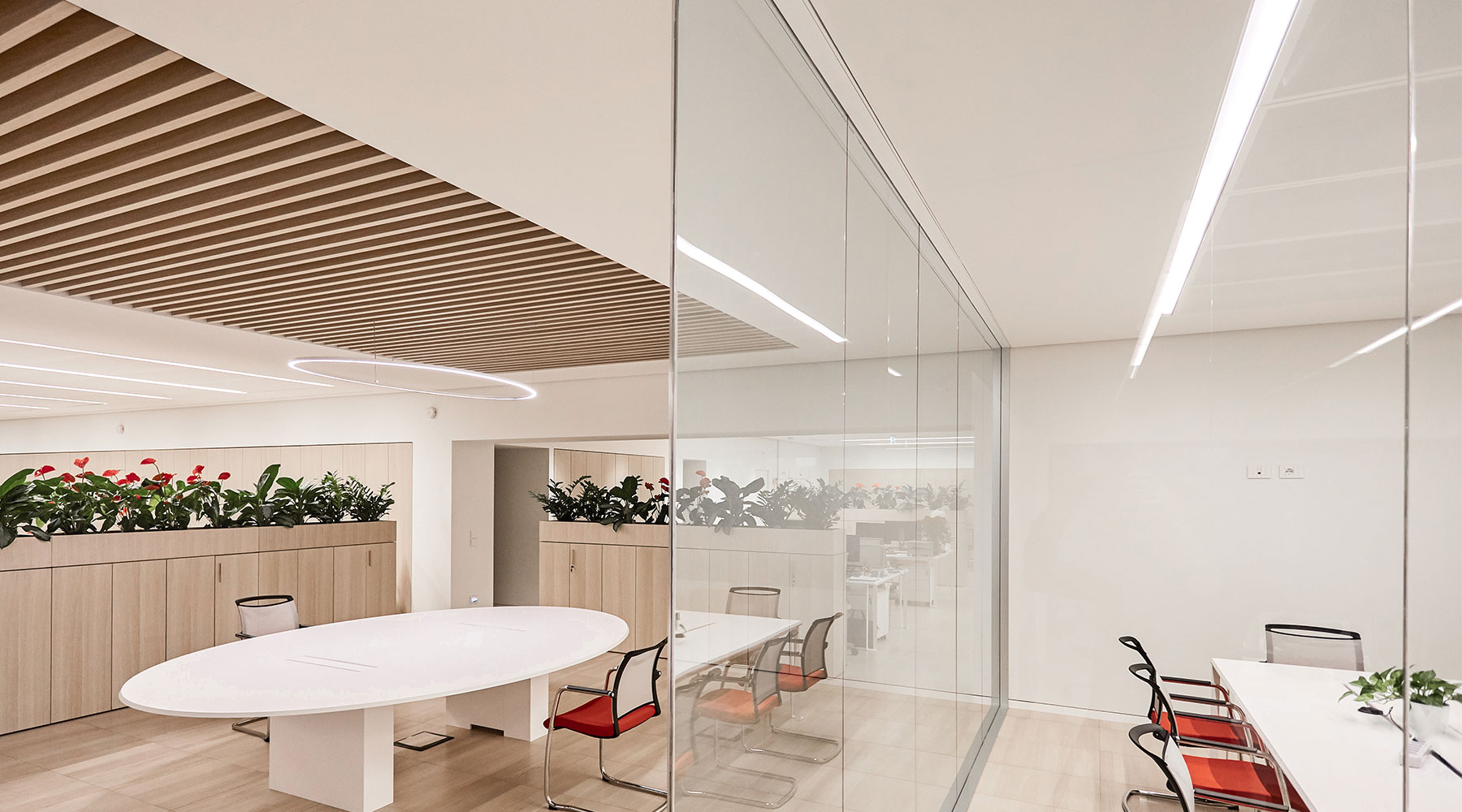 A continuous line, an unbroken stretch in thought, design, execution. The Kairós system completes its evolution in the ceiling development, connected to everything through a single profile, also designed to incorporate wall, lighting and other accessories.
Kairos can be completed with any type of ceiling (fibre, metal, wood, plasterboard, etc.), where the bandraster structure makes it easy and practical to support any panel.
The integration brings back the flexibility and security of the load-bearing elements, with exclusive aluminium profiles designed for both structural pendant layout from the floor and for bracing in the case of an earthquake-safe ceiling.
The metal ceiling makes use of a load-bearing structure made of a unique aluminium profile, designed to be hung directly to the floor slab. Finishing panels are offered in flat micro-perforated versions, with high sound absorbing capacity and customisable hole patterns, or in expanded metal, with pleat sizes and geometries to project specifications.
The slatted ceiling is offered in two material options – natural wood or recycled felt – both solutions with certified performance, high sound absorption and aesthetic impact, conferred by the full-empty development of the slats and the wide colour range.
The slatted ceiling is constructed with a pre-spaced metal superstructure to allow for easy attachment of the slats with pre-determined full-empty dimensions.
The air diffusers are chosen and incorporated into the system with a focus on overall design. We take care to make them an integral part of the system, easy to assemble and co-ordinated with the other elements, so that functionality and design are always under control.
Kairos offers continuous row lighting, achieved with slim version LED strips inserted in the bandraster. It is a low voltage, and therefore energy-saving, solution for office environments. Remotely controllable with various home automation management systems.
Kairos can be supplemented with acoustic baffles, which extend the sound barrier beyond the ceiling and under the floor, enhancing the noise barrier.
Kairos can be implemented with motorised roller blinds, concealed in the bandraster, to add privacy to any room.