Twin Floor is Nesite's raised floor system, available in both outdoor and indoor versions. Last week we talked about Twin Floor Outdoor, a product in great demand in the months before the seasonal use of outdoor surfaces, both in residential and commercial environments.
This week, instead, we want to talk about Twin Floor Indoor, the Nesite raised floor that not only respects the environment – it is entirely made of eco-friendly panels – but also respects your hearing.
Nesite's Twin Floor Indoor is the first raised floor tested and certified according to the latest and most up-to-date standards in the field of acoustics.
Without going into technical-regulatory details, raised floors are directly affected by the UNI 11367 standard, which considers the acoustic requirements of rooms that also belong to the same building unit. Textually, "…the acoustic insulation of raised floors from airborne and footfall noise shall be tested in accordance with UNI EN ISO 10848-2:2006 (ex UNI EN ISO 140-12)".
Nesite, in view of a continuous path of updating and research, wanted to face the path necessary for the certification of its indoor floors, having the Twin Floor Outdoor range tested in laboratory.
The laboratory tests involved a very specific test: two adjacent rooms, of approximately equal volume, divided by a common wall, i.e. an acoustic barrier placed on the raised floor so as to divide the test environment into two distinct rooms.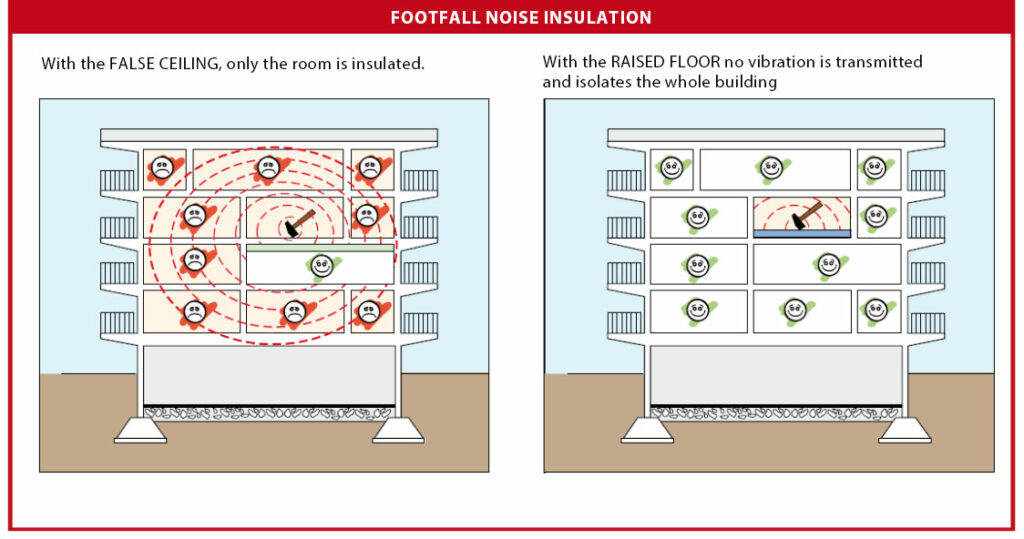 The measurements involved a double analysis of the sound transmission that tends to propagate between the two rooms through the plenum underneath the flooring, detecting
– the normalised airborne sound insulation of lateral transmission (Dnf)
– the level of normalised impact noise by lateral transmission (Lnf)
Result: Twin Floor Nesite is the first raised floor to fully meet the requirements of the regulations in relation to both these parameters, as can be seen from the certificates obtained.
Great attention to small details, this is Nesite's strength: for over 50 years, the best raised floors in the world.