Outdoor raised floor, aesthetics and strength in the new Twin Floor panel
In the supply of outdoor raised floor, Nesite offers the new high-performance Twin Floor system, made by coupling a top layer of ceramic or natural stone with a support consisting of a homogeneous and fiber-reinforced structural core with very high density (2.200 Kg/m3).
The Twin Floor panel is therefore an outdoor floor solution that provides high mechanical performance and guarantees maximum dimensional stability in the presence of damp, water and temperature changes. Moreover, the special cut-cone shape of the panel's perimeter facilitates the rainwater draining and the damp rising.
Twin Floor is available in different colours and finishes to perfectly complete the outdoor areas of private and commercial spaces. The installation of Twin Floor Outdoor can be elevated, on outdoor supports, or laid on gravel or grass.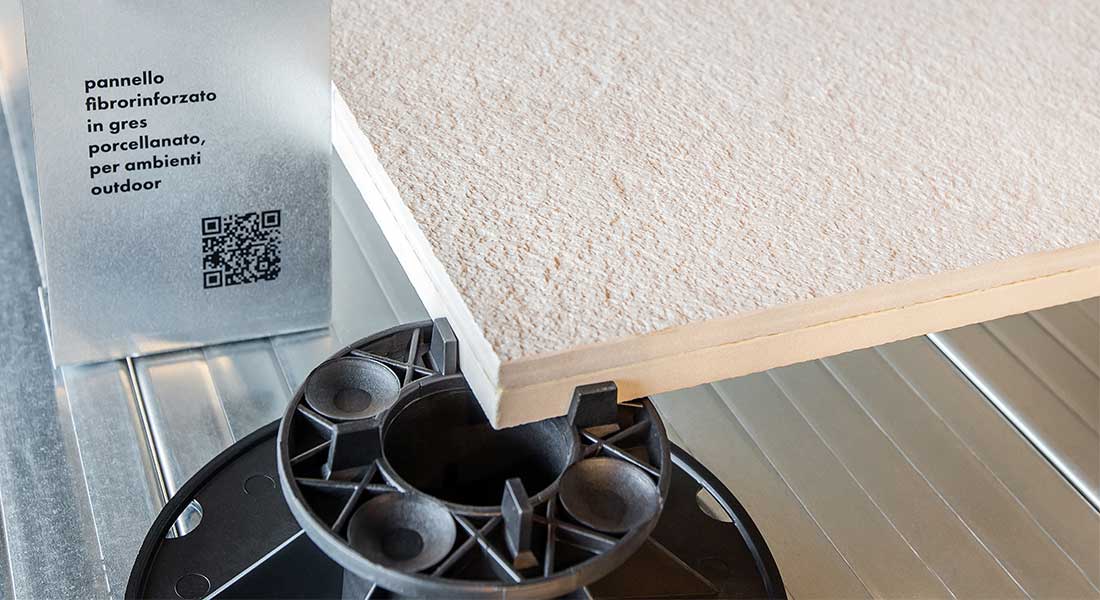 Advantages outdoor raised floor Twin Floor
○  Easily and quickly inspect the underfloor plenum in case of repair of the insulating coating and consequently save costs of demolition and refurbishment of slabs and finishing materials, as well as save time during repair intervention.
○ Improve the thermal insulation, thanks to the plenum between the raised floor and the slab.
○ Ventilate the plenum with consequent elimination of damp and of radon gas.
○ Drain water, making the floor dry and safe immediately.
○ Lay the floor faster than with traditional floor and consequently time saving. The absence of floor's settling time eliminates the risk of water infiltration into the slab.
○ Avoid making the screed above the coating and gluing the finishing materials, with consequent money saving.
○ Avoid using chemical and concrete adhesives. Twin Floor's components are eco-friendly.
Available heights for outdoor supports
Non-adjustable supports H25 mm
Non-adjustable supports H35 mm
Adjustable supports H 35-50 mm
Adjustable supports H 50-70 mm
Adjustable supports H 65-100 mm
Adjustable supports H 95-130 mm
Adjustable supports H 125-160 mm
Adjustable supports H 155-190 mm
Adjustable supports H 185-220 mm
Adjustable supports H 115-220 mm
Adjustable supports H 215-320 mm
Adjustable supports H 315-420 mm
Adjustable supports H 415-520 mm
Adjustable supports H 515-620 mm
For further information and technical details, go to the product sheet.