After many years of hard work, the museum Louvre in Abu Dhabi will open its doors.
Designed  by Pritzker prize winner Jean Nouvel, the museum was born following an intergovernmental agreement with France and it will exhibit artworks from all over the World.
Jean Nouvel was inspired by the special features of the Saadiyat site: a virgin lagoon island, between sand and sea, shade and light. His design will offer future visitors a high-impact architectural and museum experience that fosters dialogue between cultures.
The peculiarity of this prestigious work is the silver dome, which measures 180 meters and is made up of nearly 8000 metallic stars embedded in a complex geometric pattern which creates a spetacular "light rain" effect when it is lit by the sun.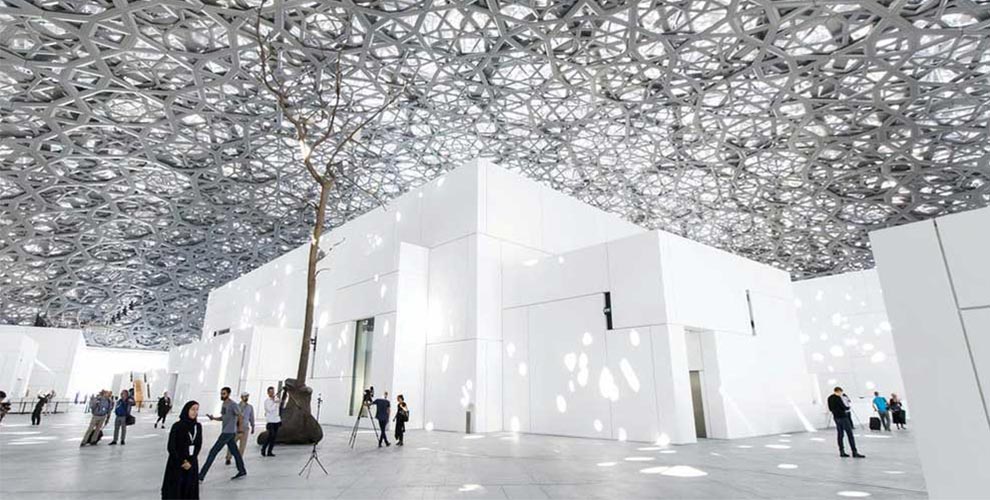 Nesite contributed to the completion of the project by installing over 20.000 sqm of highly customized raised access floor, certified as anti–seismic. 
This is a project of enormous complexity, with highly customized product that also includes the Leed certification.
We have produced panels with special dimensions, for the most part 1400×233 mm, with calcium sulphate core 38 mm thick and upper covering in different types of natural marbles, applying a 3 mm bronzed brass edge trim specifically designed to meet the customer's request.
For this project, we have produced and installed the following:
Our Tetris floor with tongue & groove system, calcium sulphate core at high density 32 mm thick and MPL stringers.
Customized panels with calcium sulphate core, 38 mm thick, galvanized steel tray 1 mm thick and various finishes in natural stone, with perimeter in bronze brass 3 mm thick, special dimensions 1400×233 mm.
Heavy duty substructure, with stringers 50x50x2 mm and special metal mesh 70×70 cm.