A vanguard healthcare facility, on a total intervention area of 178,000 m2: the new Monopoli – Fasano Hospital, built by Astaldi – Webuild Group in collaboration with 180 supplier companies, represents one of the largest and most technologically advanced development projects in the area. The new structure, which will provide 300 beds and 9 operating theatres, involves us in one of the most important applications of the raised floor in the health sector, with a supply of about 40,000 square metres.
---
---
A hospital on a human scale, designed by the landscape
---
Green and flexible like the olive trees that surround it, a project that pays homage to the territory with a work that literally integrates into its architecture the landscape on which it stands. The new Monopoli – Fasano Hospital, designed by achistar Albert De Pineda – one of the leading experts in healthcare engineering at an international level – starts precisely from an analysis of the site, characterised by the presence of monumental olive trees, and proposes a structure immersed in nature, eco-sustainable, capable of conferring wellbeing to its patients.
A building, therefore, that promotes a model of biophilic architecture, hence the choice of a low-rise building, on a human scale, designed to obtain maximum natural lighting and ventilation. The new hospital is in fact made up of autonomous but functionally connected sections, where the voids created between the blocks become courtyards that introduce the landscape into the building.
Technological and efficient, the new hospital is the plastic demonstration of how it is possible to combine architectural functionality with the most modern health care requirements, while preserving the beauty of the site.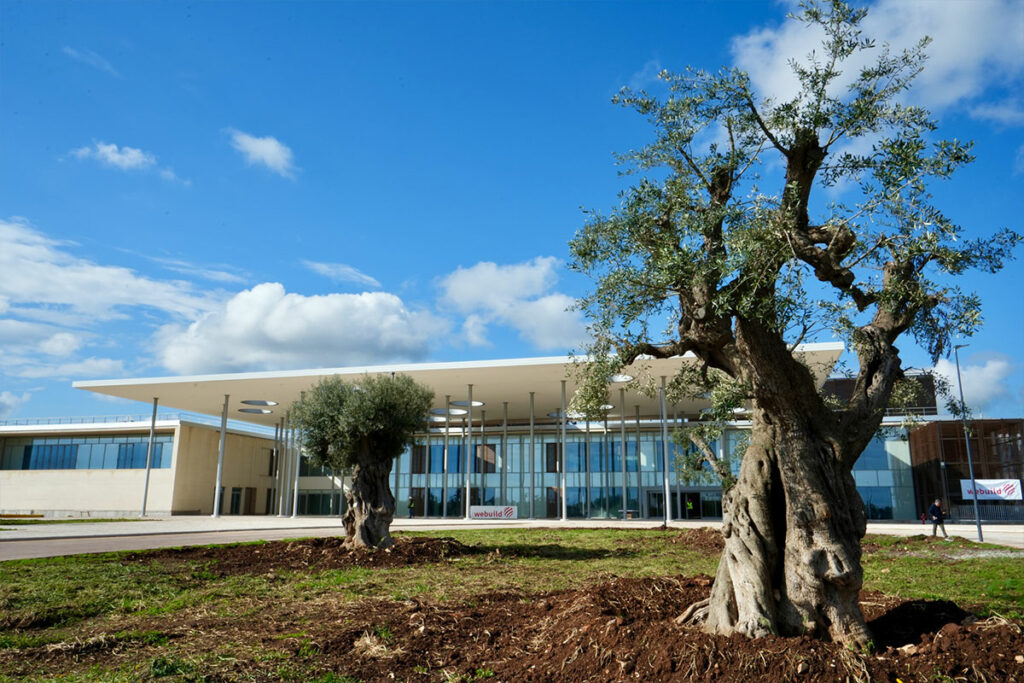 ---
---
Raised floors in the healthcare spaces
The new Monopoli – Fasano Hospital is a structure built according to the most modern canons of healthcare architecture, a context with high environmental and health standards that has provided for the use of virtuous systems and materials from the production point of view. The integration of the Nesite raised floor in the project therefore follows a strict selection in terms of quality and sustainability, and has presupposed the design with a certified cradle-to-cradle solution.
Specifically, the walking surface has been entirely realised with the Tetris Floor system, the partially inspectable solution characterised by the tongue and groove edge of the panels, a particularity that has conferred some key performance and executive advantages to the project. In fact, the Tetris Floor system is a highly resistant floor, with very fast installation times and immediately walkable surface. Finally, Tetris Floor is also a versatile system from an aesthetic point of view and allows the application of finishes of any type and size. The accessibility of the subfloor, on the other hand, has been conferred at predetermined points during the design phase.
---
---