New goal on the sustainability front, the most "eco - advanced" skyscraper in Italy will be completely paved with the raised system Nesite.
GIOIA 22, WELCOME IN THE FORTHCOMING FUTURE
We are in Milan, where until 2018 the former Porta Nuova Inps palace stood with it's 200 tons of asbestos. Now there is her, GIOIA 22 tower by Gregg Jones – Pelli Clarke studio which, unlike the previous building, sinks its basements in technology and sustainability.
GIOIA 22 – credits COIMA Sgr
Also called "shard of glass" for its futuristic shape, the new building aims to leave a mark especially from an environmental point of view. The adopted technologies will make it be the first Italian skyscraper bestow to NZEB (Nearly Zero Energy Building) standards.
A CRADLE TO CRADLE APPROACH

The cradle to cradle model consists in avoiding recycling and bringing back to nature what has been "taken" in terms of raw materials.
Therefore, the C2C does not limit itself to minimize damage, but promotes a new production model capable of eliminating waste. An approach that may seem futuristic in Gioia 22 is already reality.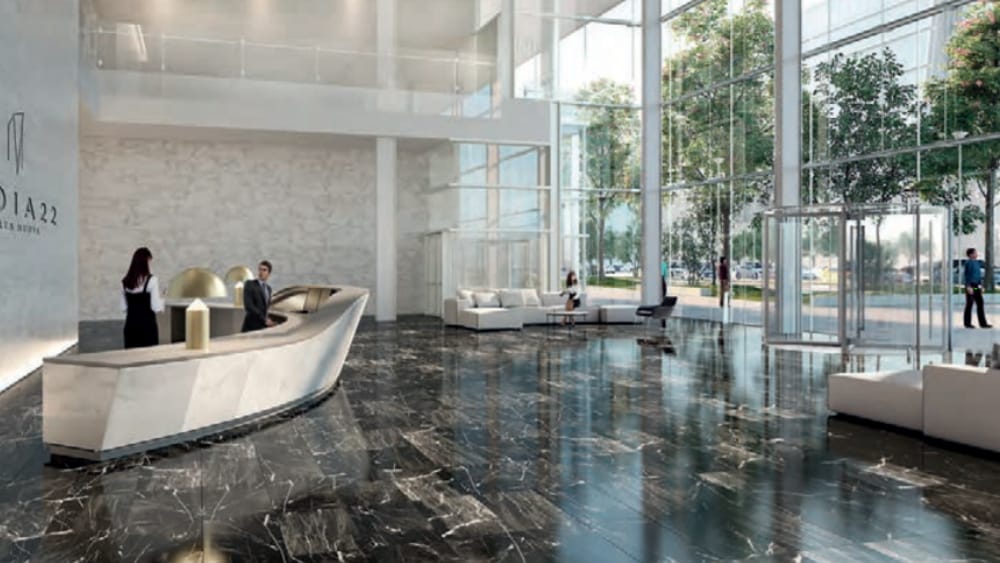 Lobby – credits COIMA Sgr
Precisely for this reason, even the Nesite raised floors have had to meet the high standards of the building with specific certifications.
ALMOST ZERO CONSUMPTION
GIOIA 22 will obtain most of the energy savings from the photovoltaic system which covers its shell.
The tower, which expands vertically for 120 meters, is equipped with 6,000 sqm of photovoltaic panels and the facades are made of high- performance triple – glazed glass envelope, for a further reduction of consumption.
The energy produced by the photovoltaic system would meet the energy needs of 306 homes.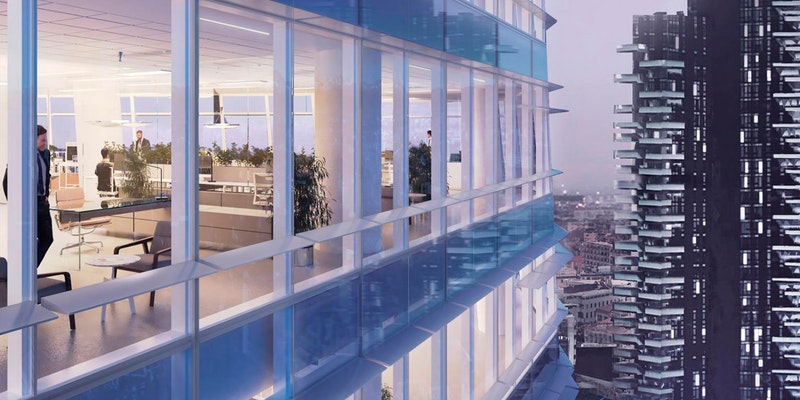 GIOIA 22 – credits COIMA Sgr
There is also LED lighting controlled by daylight sensors and a system powered by ground water for heating/cooling that exploits direct free cooling technology.
The LEED® Gold Core&Shell certification is the minimum goal of the project.
GIOIA 22,A PEOPLE-FRIENDLY PLACE
The interiors of GIOIA 22 will be "flooded" with natural light, with elegant and versatile spaces designed to give a high-quality working life and to facilitate sharing.
The use of natural and Cradle to Cradle® certified materials, it will ensure the total health of environments, beyond improving the well-being of its users
With the integration of bike lanes, pedestrian and green areas, the building will also encourage green mobility, for a healthy and environmentally friendly lifestyle.