We have already told you about BREEM (BRE Environmental Assessment Method), the first and most widespread environmental evaluation protocol in the world.
A BREEAM "class A" certification represents the best evaluation of a building's environmental performance.
We are proud to present you a building of the Fredriksborg Property, which have always been ecofriendly oriented with their projects: the Wilberg Atrium.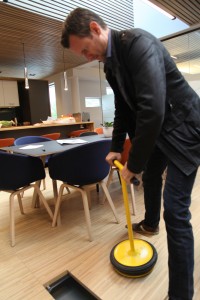 The construction was certified as BREEAM Very Good and energy Class A mainly because almost all the building is equipped with Raised Floor from Nesite and a UFAD System supplied by GBT Concept. UFAD means an Under Floor Air Distribution System where all installations (ventilation, air conditioning plus water, electricity and computer cabling) are under the Nesite raised floor, which cover almost all the flooring area.
This system has resulted in enormous energy savings, Now after one year of running it shows that the building is performing even lower than energy Class A.
Space heating (in Norway!) is guaranteed with the perfect comfort; indeed, it was used only 50% of energy normally needed for ventilation and 20% of energy normally used for cooling compared to standard installations using ducts and chilled beams installed in the ceiling. The reason for the savings is easily understood: the warm air raisesnaturally; by using the raised floor as a giant duct letting the conditioned air out into the ambient at low speed just above the floor the air raises to the ceiling by natural vertical motions, following the most basic laws of physics, and saving energy.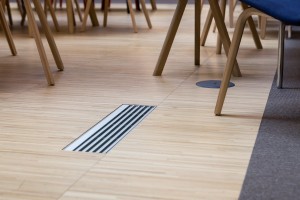 The advantage in performance guaranteed by Nesite High Quality floor, a must for an air tight duct, in collaboration with GBT Concept is extremely evident also in case of inspection and maintenance of the systems: simple gestures give access, in maximum security, to installations normally difficult to inspect if installed in the ceiling. The Nesite raised floor together with GBT Concept System also is an important factor to the flexibility of the office space at Wilberg Atrium, permitting Facility Management at a significant lower cost than normal.
From the very beginning the owners of Wilberg Atrium aimed to save as much energy as possible, maintaining a high indoor air quality, and the team of engineers and architects together with Nesite and GBT Concept has reached this goal.