A center completely dedicated to education and dissemination of science, located inside CERN and inspired by its unique structures and technologies, such as the largest particle accelerator: Renzo Piano pays homage to genius with the architecture of Science Gateway, a place where the extraordinariness of science will welcome the general public through exhibitions and immersive educational activities.
---
THE PROJECT
A bridge, physical and metaphysical. If on the one hand, Science Gateway performs the function of linking the various buildings of CERN, on the other it aspires to connect with the community, with the aim of inspiring above all the new generations. Exhibitions and workshops, hands-on experimentation will be a key ingredient in the project's educational programme, allowing visitors to have first-hand experience in the shoes of a scientist. A large auditorium is also planned for conferences and scientific shows.
---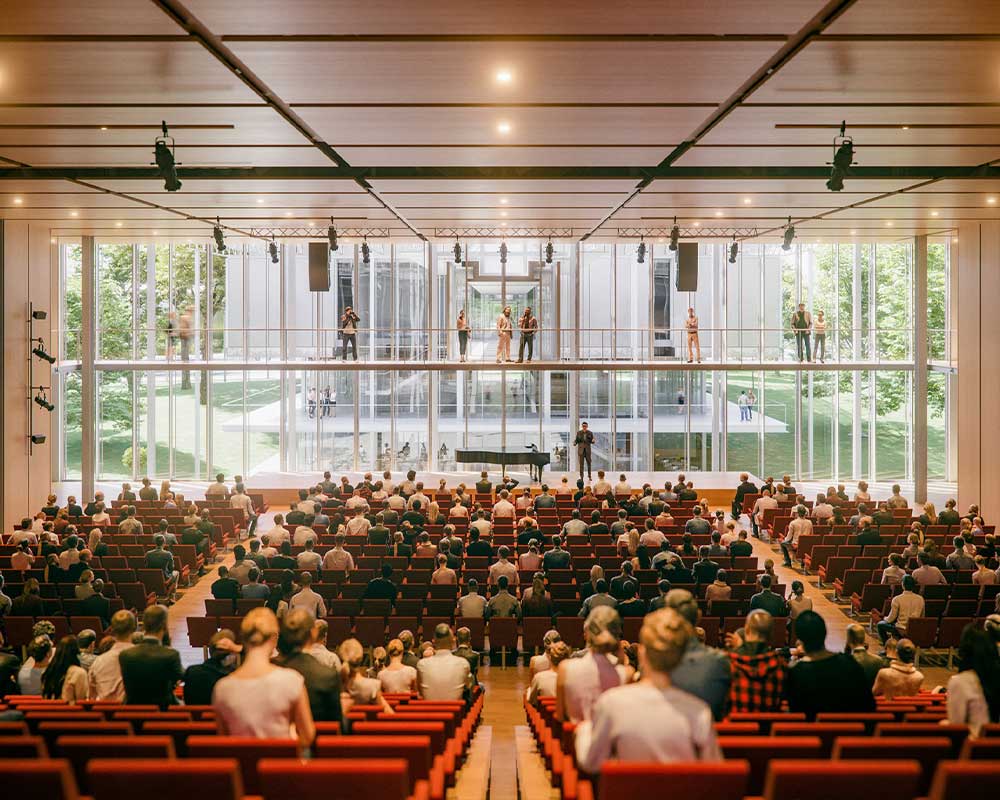 ---
THE ELEMENTS
• THE BRIDGE, the backbone along which the exhibition and educational spaces are developed, conceived as a road suspended 6 meters above the ground crossing the Route de Meyrin.
• THE PHOTOVOLTAIC COLLECTORS 40X40 sqm positioned on the central pavilion, which encloses the reception area, the north pavilion, where there is a 900-seat conference hall, and the south pavilion, intended for interactive exhibitions.
• THE TUNNELS, two raised tubes at bridge level, designed to house CERN's permanent and temporary exhibitions. Inside the tunnels, visitors are immersed in an environment evocative of the particle accelerator located 100 meters underground, where scientific experimentation unveils the deepest secrets of matter.
• THE FOREST, 400 trees representing nature as the glue of the whole, the starting and finishing point of all exploration, regardless of scale.
---
The raised access floor
CERN Science Gateway materializes the vision in a project of excellence in every aspect, and implies the installation of our floor systems in a context of extreme quality, zero emissions for the environment.
The use of raised floors, specifically, was preferred as a versatile solution in fulfilling the plant requirements of the technical spaces and the Explorer Room, the main exhibition hall, where the inherent modularity of the system will also accommodate the layout reconfigurations of future exhibitions.
The solutions provided included the use of 30 mm calcium sulphate panels, also in special format 500×1000 mm, combined with various types of structures with heights from 15 to 51 cm, and resilient roofing specifically for high-traffic environments. The project was carried out by the Nesite team in all its phases, from consulting to supply to installation.
The 'doors to the universe' will be opened in 2023, with the inauguration scheduled for spring – summer.
---